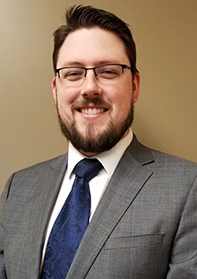 Jacob M. Porter joined the firm in May of 2022.  Jacob's practice focuses in the areas of civil litigation, trial work, and various business matters.
Jacob was born and raised in Grand Rapids, Michigan and received his Bachelor of Arts from Aquinas College in 2013 majoring in Political Science and Public Administration.  After completing his Bachelor of Arts, he moved to New York to pursue a career in law.
He began his legal education at Hofstra University where his studies awarded him the Course Excellence Award in Contracts.  He was also an active member of the student body, becoming involved in several organizations.  Jacob was an active member of the Veterans Legal Assistance Project and provided free legal services to our veterans.  He assisted active and retired veterans in navigating administrative hurdles to access the benefits they deserved.  He further honed his litigation skills on the Mock Trial team participating in several simulated trials.  Finally, he was selected to serve on the Dean's Advisory Council, where he advised and shaped the policies for future students at Hofstra University.
After his first year at Hofstra University Jacob chose to challenge himself further and transfer to Benjamin N. Cardozo School of Law located in the heart of New York City.  While at Cardozo, he focused on his studies in civil litigation, intellectual property, and data law.  He also became an active member of the Moot Court Honors Society where he competed in appellate arguments and later became a board member.  As a member of the board, he designed the appellate competition problem for the Annual BMI Moot Court Competition.
Upon graduating from law school in 2017, Jacob began his practice in New York City.  During Jacob's legal career he has worked at a diverse group of litigation firms specializing in employment, appellate work, and personal injury.  Since 2019, Jacob has served at the largest personal injury firm in New York City, Subin Associates LLP.  The firm handled a variety of personal injury matters including: auto accidents, workplace injuries, and wrongful death actions.  During his time at the firm, Jacob managed cases from first meeting a client to fighting for their rights at trial.  Notably, on his first trial, he won a half million-dollar verdict for his client who had suffered injuries from a motor vehicle accident.
Jacob has fought hard for his clients and will continue to do so into the future.  His priority will always be to give the best possible representation and service to his clients.  He is excited to bring his expertise to the Sturgis and Coldwater areas to serve both client needs and the community.
Jacob is currently admitted in Michigan, Indiana, New York, and the Western District of Michigan Federal Court.