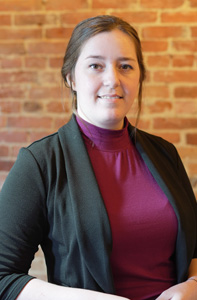 Tiffany E. Edwards joined the firm in May of 2019.  Tiffany's practice focuses in the areas of municipal law, landlord-tenant law, general civil litigation, business law and real estate law.
Tiffany grew up in Lewisville, Texas and received her Bachelor of Science Magna Cum Laude in 2015 from Texas Woman's University.  As an undergraduate student, she was engaged in a variety of leadership activities, including the Honors Scholar program and the Experiential Student Scholar program. She also worked part-time at the student newspaper as well as with the Student Government Association. In her final summer of undergraduate school, Tiffany interned with a small private law firm, drafting waivers, conducting legal research, and assisting with case preparation to meet the immigration needs of an underserved community. This experience solidified her desire to serve her community through the law.
While pursuing her Juris Doctor at the Michigan State University College of Law, Tiffany sought out a diverse range of educational and professional legal experiences. Demonstrating a strong work ethic and commitment to service, she spent her first summer as a law clerk at Legal Services of South Central Michigan providing civil legal services to indigent populations for issues related to landlord/tenant and family law. In addition to drafting motions and conducting legal research, Tiffany helped secure affordable housing for homeless, elderly, disabled, or otherwise indigent clients through the Section 8 Housing Voucher Program, and she gained significant experience with settlement negotiations through the 55th District Court Eviction Diversion Program. Tiffany spent her second summer at a small private law firm focused on providing estate planning services to families in the Lansing area. These experiences have taught Tiffany to think on her feet, anticipate legal needs before they arise, and adapt to a variety of legal issues in the context of serving her clients and her community.
Tiffany has a long history of service, having earned the Glenda Brock Simmons Community Service Award in 2014 for her volunteer work as an undergraduate student with organizations such as the Texas Coalition of Animal Protection, the Denton Community Food Center, and Mosaic Family Services. She continued this practice into law school by volunteering with organizations such as the Greater Lansing Food Bank and the Community Mental Health Authority of Clinton, Eaton, and Ingham Counties. As a new resident of Coldwater, Tiffany has maintained this level of community involvement as Advisor to the State Bar of Michigan's Client Protection Fund and through her work with Altrusa International of Branch County. As Advisor to the State Bar of Michigan's Client Protection Fund Committee, Tiffany assists with reimbursement of funds lost by individuals due to the dishonest conduct of lawyers practicing in Michigan. As Vice President of Altrusa, Tiffany is the board liaison for the Public Relations, Yearbook, and Programs committees. Tiffany also volunteers with several other Altrusa committees, including fundraising through the annual golf scramble, beautifying the Four Corners Park in Coldwater through the Parks Project, and supplying new shoes and footwear to children in need through the Happy Feet program.