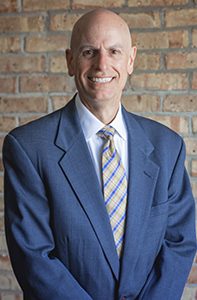 Michael J. Caywood began practicing law in 1991 and joined the firm in 1999. Prior to joining the firm, Michael practiced in Phoenix at the law firm of Snell & Wilmer and in Chicago with Ungaretti & Harris (since merged into Nixon Peabody LLP) and the Division of Enforcement for the United States Securities and Exchange Commission. While in Phoenix and Chicago, Michael's practice included complex commercial, medical products, intellectual property, and securities litigation in both State and Federal Courts, as well as intricate technology transactional agreements.
Mike has developed a broad practice since joining the firm. His practice includes civil litigation, real estate, business law, banking law, intellectual property, and other commercial issues. Michael has particularly enjoyed assisting several local businesses organize and implement key strategic measures—whether it be an acquisition of another business, the negotiation of key operational agreements, or guiding a business through a sale and the winding down process.
Michael's practice also includes estate planning, probate administration, and trust administration. Michael has been active in probate and trust disputes, but has garnered greater satisfaction in conflict avoidance and orderly succession planning. This succession planning component also dovetails with Mike's representation of businesses.
As an adjunct to Mike's broad practice, he is a Court approved mediator in Michigan. Michael has successfully mediated resolutions for all types of disputes both prior to and during litigation. To support this mediation practice, both the Sturgis and Coldwater offices have conference rooms to accommodate the shuttle diplomacy of the mediation process. Mike splits his time between the Coldwater and Sturgis offices based upon client needs.
Mike grew up in Hillsdale County, Michigan and received his Bachelor of Arts in 1988 from the University of Michigan. In 1991, he received his Juris Doctor with distinction from the University of Iowa College of Law. In addition to Michigan, Michael is licensed to practice in Indiana, Illinois, Arizona, and the District of Columbia. Michael participates in the Litigation, Intellectual Property, Probate and Estate Planning, and Business sections of both the American and Michigan State Bar Associations. He is President of the Branch County Bar Association, past President of the St. Joseph County Bar Association, and is a court approved mediator in Michigan.
Michael is very active in both the Sturgis and Coldwater communities. Michael is currently President of the Coldwater Downtown Development Authority, a member of the Coldwater Historic District Commission, a member of the Coldwater Economic Development Corporation, and the St. Joseph County Recruiting Coordinator for the University of Michigan Alumni Association Student Recruitment Program. Mike has previously served the community as a member of the City of Sturgis Planning Commission; a Board Member for Habitat for Humanity of St. Joseph County; Board Member for the West Michigan Youth Soccer Association; Board Member and Secretary for the West Michigan Broncos Youth Travel Baseball Club; Board Member of the Sturgis Gridiron Club; President of the Sturgis Soccer Club; a Board Member, Ambassador, and a co-chair for Michigan Week for the Sturgis Area Chamber of Commerce; President of the Sturgis Kiwanis Club; President of the St. Joseph County Bar Association; Board Member of the City of Sturgis Planning Board (Vice Chairman from 2002 to 2004); a founding member of the Open Door Gallery in Sturgis; and chair of the St. John's Episcopal Church Rector Search Committee.
Michael and his wife Laurie now live in Coldwater after living in Sturgis for 20 years. They have a daughter and a son.