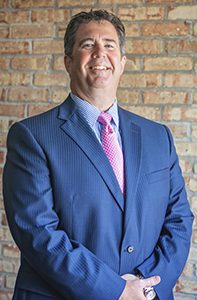 P. Joseph Haas, Jr. joined the law firm upon graduation from the University of Kentucky College of Law in 1992. He is a native of St. Joseph County, having been raised in Mendon, and graduated from Kalamazoo College in 1988.
Joe has been active in both local and state bar association activities. Locally, Joe served as the President of the St. Joseph County Bar Association. Statewide, Joe is a member of the Employment and Labor Law Section, Family Law Section, Business Law, and Public Corporation Law Section of the State Bar of Michigan. Regionally, Joe is licensed to practice in Indiana and is a member of the Indiana Bar Association and the American Bar Association.
Joe concentrates in family law issues in both Michigan and Indiana. He holds a Certificate of Completion in the area of family law issued by the Institute of Continuing Legal Education and the Family Law Section of the State of Michigan.
Joe's practice also includes representation of a number of community banks located in Southwest Michigan and Northern Indiana, with an emphasis in foreclosures and loan workouts.
Joe has taken special interest in the area of labor and employment law, where he has helped clients develop and maintain employee handbooks and various employment policies. Joe has been a frequent contributor and presenter at programs for the St. Joseph Count Human Resources Council.
He also has been active in serving as legal counsel for various area businesses and municipalities.  Throughout his career, Joe has encouraged the use of alternate dispute resolutions.  He frequently serves as a facilitative mediator involving a variety of issues and areas of law.
Upon coming to Sturgis, Joe became immediately involved in a number of community organizations. Joe has served on the City Commission from 1999-2006 and was appointed Mayor of Sturgis for the 2004-05 term. In addition, Joe is a past-chairman of the St. Joseph County Republican Party and the immediate past chairman of the Michigan 6th District Republican Party Executive Committee, and a member of the Sturgis Exchange Club, serving as its President in 1997-98 and again in 2014-2015. Joe was named Sturgis Exchangite of the Year in 1999 and Southwestern Michigan Exchangite of the Year in 2002.
He is a past member of the Board of Directors of the St. Joseph County United Way. He was President of the Sturgis United Fund at the time of its merger with the Western St. Joseph County Community Chest, which merger formed the current St. Joseph County United Way. He has been active with the Sturgis Area Chamber of Commerce where he co-chaired Sturgis' annual Michigan Week celebration and was a member of the Board of Directors and Ambassadors Club, and currently the chairman for its Public Advocacy Committee.  Joe currently serves on the Board of Trustees of Glen Oaks Community College and Board of Directors of the Sturgis Area Community Foundation.
Joe also served on, or been a Commission liaison, to a number of City boards, including the Sturgis Hospital Board, the Downtown Development Authority and the City Employee Retirement Board. He is a mentor and board member of the Sturgis Area Business Education Alliance and is a long time member of the Elks Lodge #1381, where he served as Exalted Ruler in 1996-97. Joe is currently vice-chairman of the Sturgis Hospital Board of Trustees. Joe has also been active in the Trojan Boosters Club and Sturgis Gridiron Club, and is a former board member (and its chair) for the St. Joseph County Transportation Authority.
Joe and his wife Joyce have been proud residents of Sturgis for over 27 years.  Both of their sons are commissioned officers in the United States Army.  Their true pride and joys though are their grandsons, Phin and Oliver.