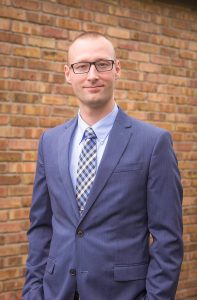 Zachary W. Stempien joined the firm in 2017, shortly after being licensed to practice law. Zack's practice focuses in the areas of family law, estate planning, probate, and appeals, but he also has a vast deal of knowledge in several other areas of law.
Zack grew up in Coldwater, Michigan and received his Bachelor of Arts in 2014 from Central Michigan University. In 2017, he received his Juris Doctor, Magna Cum Laude, from Western Michigan University Law School, graduating second in his class. Zack earned an Academic Excellence Award for obtaining the highest grade (certificate of merit) in 22 classes.
At Western Michigan University Law School Zack served as a Law Clerk for the Hon. Judge Amy Ronayne Krause, Michigan Court of Appeals, where he reviewed pending cases and assisted the court in drafting opinions.  
Zack has also served as a Law Clerk for the Hon. P. William O'Grady, Branch County Circuit Court Judge, where he assisted in case review, legal research, and drafting opinions. He additionally was employed as a Deputy Probate Register at the Ingham County Probate Court during law school.
Zack remains active in his home community. He is currently a Coldwater High School Middle School Football coach and youth baseball and softball umpire.  Zack has also held various other coaching positions for Coldwater Schools, including JV Baseball and JV Basketball. Zack lives in Coldwater with his Wife, Nikki, and their infant son, Mason.