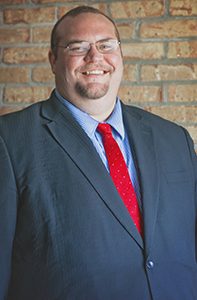 David R. Hughes became licensed to practice law in 2014 and joined the firm in December of 2016.  Dave's practice focuses in the areas of estate planning, probate and trust administration, civil litigation, business planning/formation, real estate transactions, foreclosures/landlord-tenant matters, bankruptcy, municipal law, labor law, liquor license issues, and marijuana law, but he also has a great deal of knowledge in several other areas of law, and he is always willing to figure out what is necessary to help a client achieve the result they desire.
Dave grew up in Bronson, Michigan and received his Bachelor of Arts in 2004 from Western Michigan University.  Prior to law school, he worked at WWMT for eight years and produced the Channel 3 morning news.  In 2014, Dave received his Juris Doctor Magna Cum Laude from Western Michigan University Law School, graduating 2nd in his class out of 329 graduates.  He earned numerous Certificates of Merit in law school for achieving the highest grade in nine different courses, including Business Planning, Estate Planning, Mortgages and Land Contracts, Sales, and Trial Skills.  He also earned several other awards and honors, including being one of only five law school students from throughout the state of Michigan to receive the Edward H. Rakow Scholarship for excellence in securities law, which was awarded by the Eastern District of Michigan Chapter of the Federal Bar Association.
Dave began his legal career clerking for the Honorable Scott W. Dales at the United States Bankruptcy Court for the Western District of Michigan and for the Honorable Dennis B. Leiber at the Kent County Circuit Court.  Both of these stops provided invaluable experience in going behind the scenes and learning the inner workings of the courts.  While at the bankruptcy court, Dave drafted opinions and orders in cases under Chapters 7, 11, 12, and 13 of the bankruptcy code.  At the circuit court, he drafted hundreds of opinions and orders in cases involving complex commercial litigation, contract disputes, receiverships, foreclosures, quiet title actions and other property disputes, auto no-fault litigation, and personal injury litigation, including premises liability actions.
Dave is very active in the community and is currently serving as the President of the Sturgis Rotary Club.  He is also a member of the St. Joseph County Bar Association, the Branch County Bar Association, and the Federal Bar Association for the Western District of Michigan
Dave and his wife Jenny reside in Sturgis along with their four young children.